Online grocery shopping is a convenient way to buy groceries. The rise of online grocery stores has changed how people buy food. Nowadays you can order your groceries from the comfort of your home without having to go out in the rain or snow or even leave your couch.
Some people are hesitant about buying groceries online because they are not sure whether the food will be of high quality or not. However, there are many advantages of buying groceries online that outweigh this small drawback. Keomart is a retail store that offers convenience to the customers by delivering their groceries in 20 minutes. It also offers wholesale prices so you can save money and get the best deal possible.
Why People are switching to Ordering their Food Online:
People are switching to ordering food online because it is convenient, easy and saves time. Many people order their food online because they don't have to wait in line, they don't have to worry about driving or parking, and the food arrives at their door. Ordering food online is also a great way for those who are too busy with work or school to prepare a meal for themselves. In addition, many customers like the idea of being able to browse menus from the comfort of their own home, without having to wait for someone to take their order. Nowadays, Keomart has grown into an online shopping grocery app that sells more than just stationary & kitchenware. You can order anything from food staples like flour or sugar all the way up to fresh fruits & vegetables!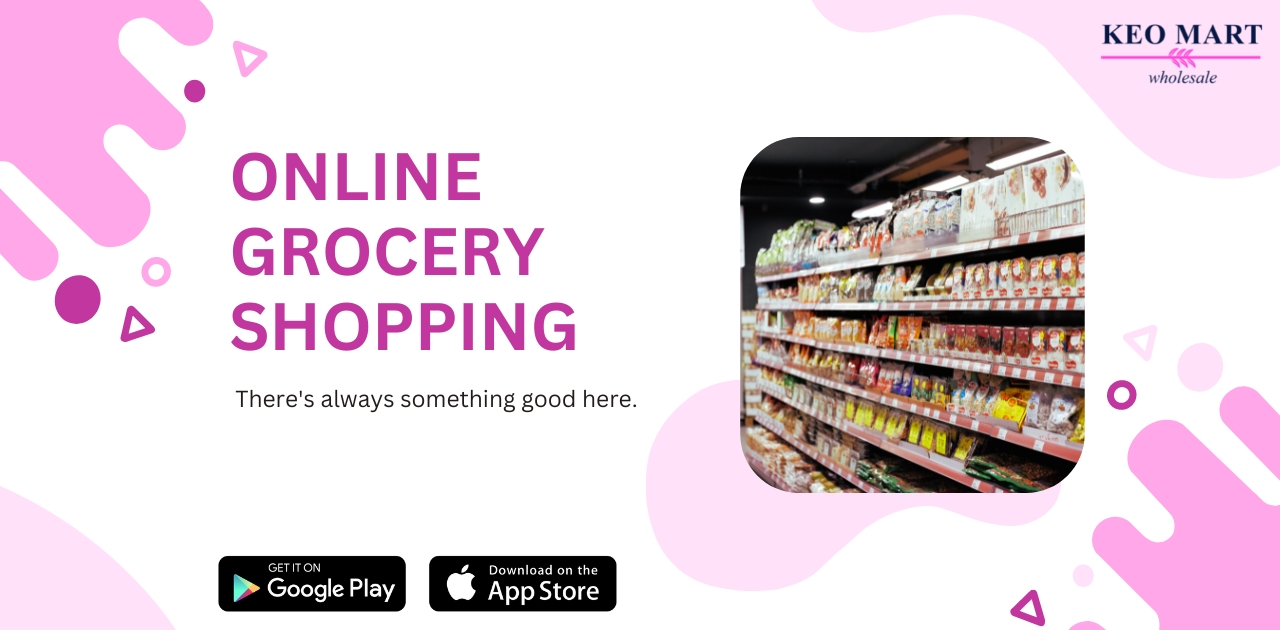 What are the Benefits of Ordering Groceries Online?
Grocery delivery services make it easy for people with busy schedules or who live in areas that do not have many grocery stores nearby. Ordering groceries online is not only convenient, but it also helps you save money. You can find a variety of products at the grocery store that you may not have been able to find elsewhere so it is always better to buy grocery online.
Here are the top 5 benefits:
1. Convenience: Online grocery stores are a convenient and time-saving way to order groceries. You can do it from the comfort of your own home, without having to worry about long lines or heavy bags.
2. Selection: Online grocery stores offer a wider selection than traditional grocery stores, with everything you need in one place at low prices.
3. Variety: Online grocery stores offer an assortment of fresh grocery online such as vegetables, fruits, dairy products and other essentials that you may not find in your local supermarket.
4. Price: Shopping online is often cheaper than shopping for groceries in person because you don't have to pay for gas and parking.
5. Time-Saving: With online shopping you save both time and money by not having to go out into traffic.
Keomart for Online Grocery Shopping!
Keomart is a new online grocery shopping platform that offers fresh produce from direct sourced farmers and other quality products at wholesale prices with the convenience of 20 minutes delivery. With Keomart, you can enjoy the best of both worlds: high-quality food and low prices for every online grocery item.
You will find our products in the fresh produce, and bakery sections of online grocery shopping store - keomart. We have sourced from farmers who are committed to sustainable agriculture and organic farming methods that produce the best quality of food. All our products are fresh and can be grocery delivered within 20 minutes so order now!